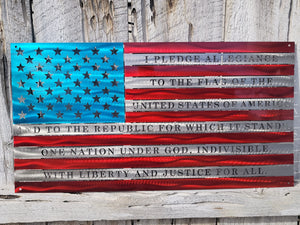 Check out our newest addition the U.S. Pledge of Allegiance Flag  Each piece is made to order and each is individually finished so no two are alike and slight variances will be present.
Each of our flags are 100% American made.  We first cut the flag out of American Steel with state of the art cnc equipment.
Next, each flag is carefully hand polished to a brilliant shine before applying a gorgeous blue over the field of stars. Next the flag receives a beautiful lollipop red powder coat, followed by a generous clear powder coat to finish the piece.
Please allow 4-5 business days from date of purchase for your item to be created and shipped!